Office hours
Winter term 2019/2020
Monday, 15:30 – 17:00 h
Please contact Mrs. Jensen (jensen@pg.tu-darmstadt.de) and briefly describe your request.
2019: (Supra)Nationales Europa. In: Merkur. Deutsche Zeitschrift für europäisches Denken 8/2019, S. 83-90.
2019: Back to the future! Habermas and Dewey on democracy in capitalist times. In: Constellations, DOI: 10.1111/1467-8675.12423 (zus. mit Veith Selk).
2019: Towards an Antifederalist Theory of the EU: Democratic Federal Lessons for the European Union. JCMS: Journal of Common Market Studies, Online First, https://doi.org/10.1111/jcms.12899 (zus. mit Jared Sonnicksen).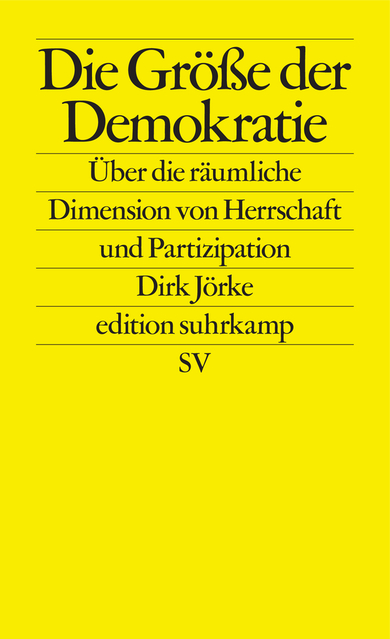 2019: Die Größe der Demokratie. Über die räumliche Dimension von Partizipation und Herrschaft Berlin: Suhrkamp. Reviews: NZZ, Deutschlandfunk Kultur, ZEIT Online, Makroskop, Tagesspiegel, FAZ, Buchforum im Theorieblog.
2019: Edmund Burke: Tradition – Verfassung – Repräsentation. Schriften zur europäischen Ideengeschichte, edit.. by Harald Bluhm. Berlin: Akademie-Verlag (in cooperation with Olaf Asbach).