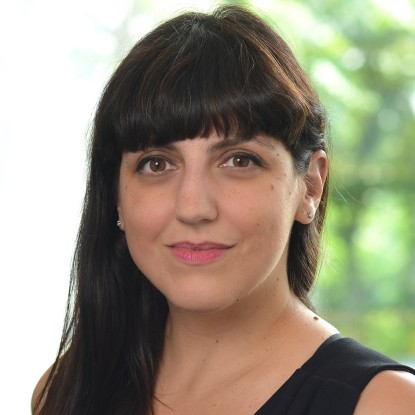 Dr.
Maria-Artemis Kolliniati
Lehrbeauftragte
Arbeitsgebiet(e)
Kontakt
kolliniati@pg.tu-...
Work Post|Mail: Dolivostraße 15
Besuch: Landwehrstraße 50A
61293 Darmstadt
Dr. Maria-Artemis Kolliniati is teaching human rights at TU Darmstadt. She is the author of Human Rights and Positive Obligations to Healthcare. Reading the European Convention on Human Rights through Joseph Raz's Theory of Rights (Nomos). Before joining TU Darmstadt, she taught at the University of Glasgow Law School. She has also been a researcher at the University of Antwerp and the University of Athens. She holds a PhD in political science from the University of Heidelberg.
Research interests
Human rights
Philosophy of human rights
European Convention on Human Rights
Political theory
Human rights and cities
Human rights and forced migration
| | |
| --- | --- |
| 07/2019-02/2020 | Research fellow. Technische Universität Darmstadt, Institute for Political Science. |
| 01/2018-06/2019 | Parental leave. |
| 10/2016-11/2017 | Doctoral researcher. University of Heidelberg, Insitute of Political Science, Germany. |
| 02/2016-09/2017 | Research assistant. Technische Universität Darmstadt, Institute for Political Science. "REPOS II" (Social cohesion and indebted municipalities). Funded by the Federal Ministry of Education and Research (BMBF). |
| 09/2015-02/2016 | Visiting researcher. University of Glasgow, School of Law, United Kingdom. |
| 07/2014-07/2015 | Research assistant. National and Kapodistrian University of Athens, School of Political Science and Public Administration. Re-searcher at "Reformability of Political Systems in times of crisis: The example of financial consolidation in German and Greek municipalities" (REPOS). Funded by the Greek Ministry of Education, Research and Religious Affairs and BMBF. |
| 10/2013-10-2016 | Doctoral researcher. University of Antwerp, School of Law, Belgium. |
| 10/2010-01/2011 | Research assistant. Preparation of educational material on Kallikratis legislation N.3852/2010, Centre for European Constitutional Law –Themistocles and Dimitris Tsatsos Foundation |
| 02/2010-09/2010 | Research assistant . National and Kapodistrian University of Athens. "Research on Kallikratis legislation, Case Study: Prefecture of Magnesia, Trikala municipality. |
| 10/2009-02/2010 | Research assistant. Local Government Institute, Athens. "Yearbook for European Union policies and the Greek local level." |
| 02/2009-09/2009 | Research assistant. National Center for Public Administration and Local Government, Athens. "Local government in Cyprus" pro-ject. |
| 12/2008-02/2009 | Research assistant. Local Government Institute, Athens. Political science researcher at "Research on Municipal advisor in Greece and Europe." |
| 10/2008-12/2008 | Research assistant. Unit for Migration Studies –University of Athens. "Research for the National and International programmes for refugees," and at "Research for Greek Non-Governmental Organizations for immigrants and refugees." |
| 06/2005-06/2017 | Participation in performances as professional actress (e.g. Künstlerhaus Mousonturm, Flemish Opera-Ghent Opera, Michalis Cacoyannis Foundation, The Athens Concert Hall, Theatre for children). |
On a regular basis: Monday 10.30-12.00
Please sign up for office hours via foodle