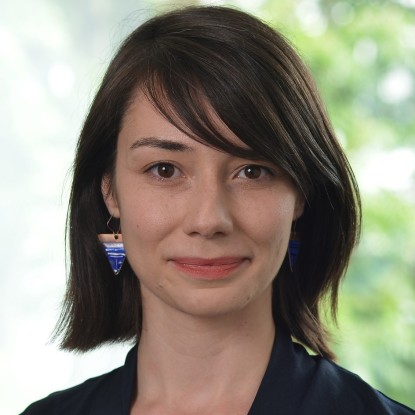 Research Associate
Contact
loli@pg.tu-...
work +49 6151 16-57278

Work S4|22 302
Landwehrstraße 48
Post|Mail: Dolivostraße 15
64293 Darmstadt
Miranda Loli currently works as a research associate at the Chair of Transnational Governance and with the interdisciplinary Programm "Technology and International Development". She is a PhD candidate at the Cluster of Excellence "Normative Orders"/TU Darmstadt. Her thesis explores the intersection of corruption and conflict with a particular focus on the interplay of transnational and local civil society actors.
Research interests
International Development
International Political Sociology
Knowledge and Authority in Global Governance
The International Anti-Corruption Regime
Since 07/2019
Research Associate, Chair of Transnational Governance and Interdisciplinary Study Programm "Technology and International Development"

05/2016 – 07/2019
PhD Scholarship, University of Darmstadt and Cluster of Excellence "The Formation of Normative Orders"
Advisor: Prof. Dr. Jens Steffek
09/2018 – 12/2018
Visiting Researcher European University Institute, Florence
10/2013 – 04/2016
M.A. in International Relations/ Peace and Conict Studies, Goethe University of Frankfurt and
University of Darmstadt
10/2010 – 09/2013
B.A in Political Science, Ludwig-Maximilians-University Munich
10/2012 – 09/2013
Junior Research Associate, Institute of Development Strategy, Munich