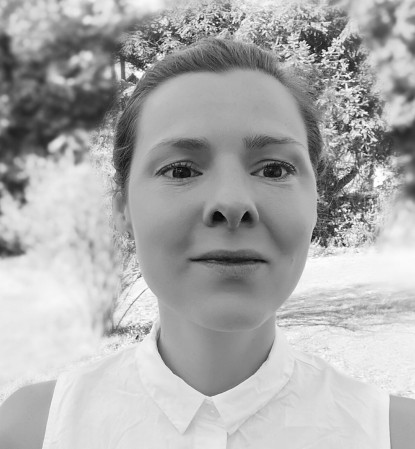 Research Associate
Working area(s)
Contact
holthaus@pg.tu-...
work +49 6151 16-57358

Work S 4|23 214
Post|Mail: Dolivostraße 15
Landwehrstraße 50A
61293 Darmstadt
Leonie Holthaus works as a research associate at the Institute of Political Science at the chair for "Transnational Governance". Her research is focused on democratization and international relations. Leonie entered academia with works on regional integration and the legitimation of the monarchical rule in the Arabian Peninsula. In her PhD and the monograph (2018) resulting from it, she makes a contribution to historical and theoretical International Relations by reconstructing the impact of democratization on international relations and left-liberal democratic peace theories. As a Postdoc, Leonie begun studying democracy promotion in Tunisia and contributing to practice theoretical debates in International Relations.
Her recent research tackles the development of democracy promotion at the interface of theory and practice. She has three main research agendas within this broader framework: (1) exploration of democracy promotion changing practices in a historical manner, tracing democracy promotion back to epistemic transformations of Western colonialism; (2) application of the question of how democracy promotion is remade to an analysis of contemporary North American and German democracy promotion and academic interpretations of these activities; (3) empirical investigation of the changing practice of EU democracy assistance.
Among Leonie's international cooperation partners is Prof. Dr. Michael Christensen. She is also a member of the network External Democracy Promotion https://www.external-democracy-promotion.eu/
Interview
Dr. Leonie Holthaus hat ein kurzes Interview zur WM 2022 und der Lage der Menschenrechte in Katar gegeben:
Research interests
Civil Society
Democratization
International Relations
International Organizations
Postcolonial Studies
Practice Theory
Qualitative Methodologies
Since 10/2017
Senior Research Fellow at Technical University of Darmstadt, Germany
04/2020 – 10/2020
Acting Professor of International Politics, Potsdam University, Germany
10/2010 – 10/2017
Research Fellow at the Cluster of Excellence "The Formation of Normative Orders"/Technical University of Darmstadt, Germany
05/2011 – 12/2015
PhD "Justifications of International Functionalism" (Supervision by Professor Dr. Jens Steffek (Darmstadt) and Professor Dr. Duncan Bell (Cambridge) at Technical University of Darmstadt, Germany
08/2009 – 07/2014
Freelance work (part-time) at the Institute of Political Education of the State Hessen, Wiesbaden, Germany
10/2010 – 02/2011
Associate Lecturer at Philipps University of Marburg, Germany
10/2007 – 07/2010
Student Assistant at the Chairs of Professor Dr. Wilfried von Bredow, Professor Dr. Dirk Berg-Schlosser and Professor Dr. Thomas Noetzel at Philipps University of Marburg, Germany
Visiting Positions
11/2017

Erasmus Staff Exchange in cooperation with the Division of History and Politics, University of Stirling, Scotland
02/2016 – 03/2016
Visiting Research Fellow at the School of Political Science and International Studies, University of Queensland, Australia
10/2015
Erasmus Staff Exchange in cooperation with the Department of International Politics, Aberystwyth University, Wales
04/2012 – 07/2012
Research stay at Cambridge University, Cambridge, United Kingdom
08/2006 – 12/2006
Visiting student at the American University of Sharjah, Sharjah, United Arab Emirates
SoSe 2021
02-03-0015-ps Qualitative Methoden in den Internationalen Beziehungen
Mo, 12. Apr. 2021 [13:30] – Mo, 12. Jul. 2021 [15:10] Proseminar
02-03-0162-se Praxistheoretische Perspektiven in den Internationalen Beziehungen
Mo, 12. Apr. 2021 [11:40] – Mo, 12. Jul. 2021 [13:20]
WiSe 2020/21
02-03-0002-ps Einführung in die Politikwissenschaft C
Mi, 4. Nov. 2020 [11:40] – Mi, 10. Feb. 2021 [13:20]
Proseminar
02-03-0163-se Democracy promotion: Actors, objectives, critiques
Mi, 4. Nov. 2020 [15:20] – Mi, 10. Feb. 2021 [17:00]
Seminar
WiSe 2019/20
03-0002-ps Einführung in die Politikwissenschaft C
Mi, 16. Okt. 2019 [11:40] – Mo, 17. Feb. 2020 [18:00]
02-03-0154-se Demokratieförderung und Wahlbeobachtung in Tunesien
Do, 24. Okt. 2019 [10:00] – Do, 24. Okt. 2019 [18:00]
SoSe 2019
02-03-0015-ps Internationale Beziehungen II: Einführung in die Demokratieförderung: Konzepte, Akteure, Instrumente
02-03-0048-se Kritische Theorien der Internationalen Beziehungen
WiSe 2018/19
02-03-0002-ps Einführung in die Politikwissenschaft C
02-03-0154-se Demokratieförderung und sozio-politische Inklusion in Tunesien