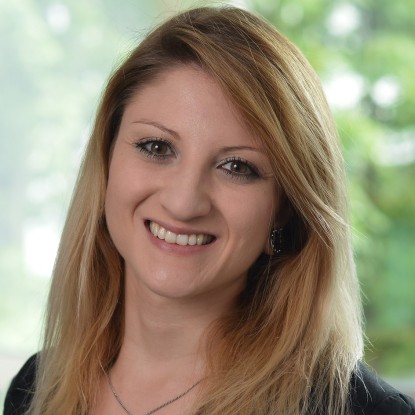 Research Associate
Contact
melina.lehning@tu-...
work +49 6151 16-57362
fax 06151 16-57472
Work S4|23 008
Landwehrstraße 50a
Post/Mail: Dolivostraße 15
64293 Darmstadt
Since October 2018 Melina Lehning has been working as a research associate in the section of the Institute of Political Science at the chair for "Methodology in Political Science and Philosophy of Science" headed by apl. Prof. Dr. Björn Egner. She is working for the German-Greek research project "Conditions for Institutional and Cultural Innovation in German and Greek cities", Since April 2020, she has also been working at the chair "Transnational Governance" in the research project "How Europeans understand reciprocity, fairness and cohesion". Both projects are funded by the BMBF.
Research Interests
Local Politics
Policy Analysis
Elections and electoral research
Political Party research
| | |
| --- | --- |
| since 06/2021 | Member of the team of Gender Equality Officers at the Department of Social and Historical Sciences, TU Darmstadt |
| since 04/2021 | Research associate in the research project of the BMBF "How Europeans understand reciprocity, fairness and cohesion at the TU Darmstadt |
| 10/2018-09/2021 | Research associate in the German-Greek research project of the BMBF "Conditions for Institutional and Cultural Innovation in German and Greek cities" at the TU Darmstadt |
| 05/2016-09/2018 | Studies in Governance and Public Policy at TU Darmstadt, Degree: Master of Arts (with distinction), Thesis: "Between quota and path dependency. The political participation of women at the local level in a European comparison" |
| 07/2017-12/2017 | Research assistent at the Research Unit "Comparative Politics and European Integration" (Head: Prof. Dr. Michèle Knodt) at the Institute of Political Science at TU Darmstadt |
| 07/2017-12/2017 | Research assistent at the Bologna Resource Center of the Jean Monnet Centre of Excellence "EU in Global Dialogue" (CEDI), Prof. Dr. Michèle Knodt and in the third-party project "Kopernikus: eNavi", funded by Federal Ministry of Education and Research |
| 10/2015-09/2017 | Research assistant for the project "Local Housing Policy in Germany", lead by Prof. Dr. Björn Egner |
| 07/2014-09/2017 | Student Advisory Service at the Insitute of Political Science at TU Darmstadt |
| 07/2014-09/2017 | Research assistant at the research Unit "Methods of Political Science and Theories of Science" (Head: Prof. Dr. Björn Egner) at the Institute of Political Science at TU Darmstadt |
| 04/2016 | Studies in Political Science at TU Darmstadt, Degree: Bachelor of Arts, Thesis: "Does municipal size matter? An empirical analysis of the electoral probability of mayoral candidates in the municipalities of Hesse and Saxony" |
| 10/2013-02/2014 | Head of a tutorial on the introduction to scientific work |
WS 2020/21 – Proseminar – "Methodology in Political Science and the Philosophy of Science I A/B" (Wed., 11:40-13:10; Thu., 9:50-11:20, digital course)
SoSe 2020 – Seminar – "Local Politics and Administration" (Thu., 9:50-11:20, digital course)
SoSe 2020 – Proseminar – "German Politics I" (Tue., 11:40-13:10, digital course)
WS 2019/20 – Proseminar "German Politics I" (Wed., 11:40-13:10 – Room S422/6)